'Wiccan' Dating Sites*
Along with Wiccan Passions (the site you are on now), the sites listed below all focus on connecting Wiccan singles and/or Pagan singles with others who share their same beliefs. So, if you are looking for a great dating site focused on singles who practice Wicca or a great Pagan dating site, then there are MANY here to choose from, so look around to find the one that seems like the best fit for you.
AD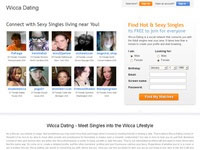 Wicca Dating
Discover Local Witches
"Find real relationships based on common beliefs & lifestyles. Browse 1000s of Wiccan and like-minded beings, enjoy private chat, & find a date or coven member today!"

Pagan Dating Site
Find Like Minded Partners at Pagan Dating Site
"Pagan Dating Site serves as a meeting point for all those people out in the world who do not belong to any particular religion, but believe in more than one god, respect nature, and are looking for companions who practice the same beliefs."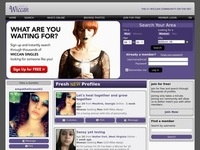 Date A Wiccan
Search Thousands Of Local Wiccan Singles
Great site filled with like-minded earth loving singles interested in meeting other Wiccans for friendship, romance, love and perhaps more. Join to see if your Wiccan soul mate is online now.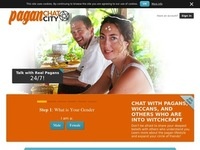 Pagan Chat City
Chat With Pagans, Wiccans, And Others Who Are Into Witchcraft
No matter what type of pagan you consider yourself, there are plenty of men and women here who share your beliefs. Pagan Chat City has been created to bring polytheists together in one place where they can feel free to be themselves and talk about whatever topic appeals to them.

Wiccan Personals
Join Wiccan Personals and Find a Loving Partner!
"Do you practice or believe in White Magic and all things pagan and related to the divine goddess? Do you also believe that you need to become one with someone who is also a Wiccan or at least has the appreciation for Wiccan as a religion? If so, Wiccan Personals is filled with singles that might fit the bill."

Pagan Singles Dating
Sign Up To Search Thousands Of Single Pagans Looking For Someone Like You
Are you grounded in Mother Earth? Are you looking for singles who share your Pagan beliefs? Why spend time with someone who is completely ignorant of Paganism or worse, someone who mocks it. Join Pagan Singles Dating to meet people you connect with.

Wiccan Singles Chat
Chat with Wiccan Singles
"Have you always been someone who didn't follow the norm and found yourself attracted to Paganism, nature, and the spirituality of the divine force? If this sounds like you and you would like to chat with someone who agrees with your view on life, then you need to try Wiccan Singles Chat."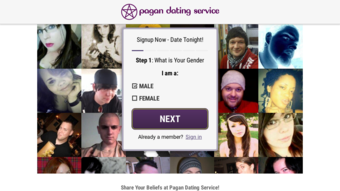 Pagan Dating Service
Meet Pagan Singles!
"Discover a Community of Wiccans, Shamans, Druids & other Pagans at Pagan Dating Service! Find a Partner for Both Practice and Romance!"
AD

Meet Wiccan Singles
Connect With Wiccan Singles In Your Area
Meet Wiccan Singles has been designed to help connect single Wiccans with others who understand their Wiccan lifestyle and to help connect singles with the dates they have been looking for.

Witch Chat City
"Chat with Witches, Pagans, and Other Spiritualists"
"Enter the circles of mysterious and exciting chat when you join Witch Chat City, one of the biggest mystical communities on the web. Discover a place that is enlightening in so many ways - not the least of which is the opportunity to get in touch with male and female witches and warlocks from all around the globe."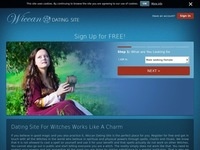 Wiccan Dating Site
Join A Dating Site For Witches That Works Like A Charm
Do you believe in good magic and also practice it? If so, Wiccan Dating Site is the perfect place for you. Join today and get in touch with Witches who believe in spiritual and physical powers using spells, chants and rituals.

Wicca Chat City
THE Online Site For Wiccan Chat Connections
Join Wicca Chat City as a full member and enjoy online chat, live webcams and private messages. Whether you are looking for new friends or you are interested in romance, Wicca Chat City is filled with others seeking the same things.

Wiccan Chat City
Meet and Chat with Local Wiccans
"Meeting people online who share the same interests and passions as you has never been easier. If you would like to get close to Wiccans from all around the world, then join Wiccan Chat City! With one of the largest Wiccan populations online, it's the first and best place to connect with other Wiccans for friendship, fun, and camaraderie."
AD
Pagan Partners
The Pagan Contacts Site
Wiccan? Druid? Shaman? However you identify, Pagan Partners aims to help you connect with like-minded singles for dating, romance, companionship and more.
*Sites listed on this page are a combination of ads, affiliate related Sites and general non-partnership related sites that match the theme of Wiccan Passions.